Platforma
---
W szkole języka angielskiego Manhattan Academy korzystamy z najnowocześniejszej na świecie platformy Amerilingua. Kursanci otrzymują darmowy dostęp do wszystkich lekcji na poziomach od A1 do C1 na czas trwania kursu.
Wysokiej jakości lekcje na platformie tworzone są przez zespół pełnych pasji amerykańskich ekspertów i praktyków ESL.
Lekcje na platformie
Są nowoczesnym sposobem na naukę języka angielskiego dla osób dorosłych.
Są wysokiej jakości - stworzone przez amerykańskich ekspertów i praktyków.
Zapewniają kontakt z językiem, który jest żywy, autentyczny i aktualny.
Są atrakcyjne i nowoczesne pod względem wizualnym.
Bazują na krótkich, zabawnych, inspirujących filmikach video, ciekawych tekstach lub nagraniach audio, prowokujących do żywych dyskusji.
Posiadają transkrypcje do video, dzięki czemu zrozumiesz każde wypowiadane słowo.
Zawierają listę słownictwa wraz z definicjami i wymową.
Zawierają powtórkę, aby dodatkowo utrwalić materiał z lekcji.
Prezentują gramatykę w przejrzysty sposób.
Są podzielone na poziomy od A1-C2.
Dotyczą języka ogólnego lub biznesowego.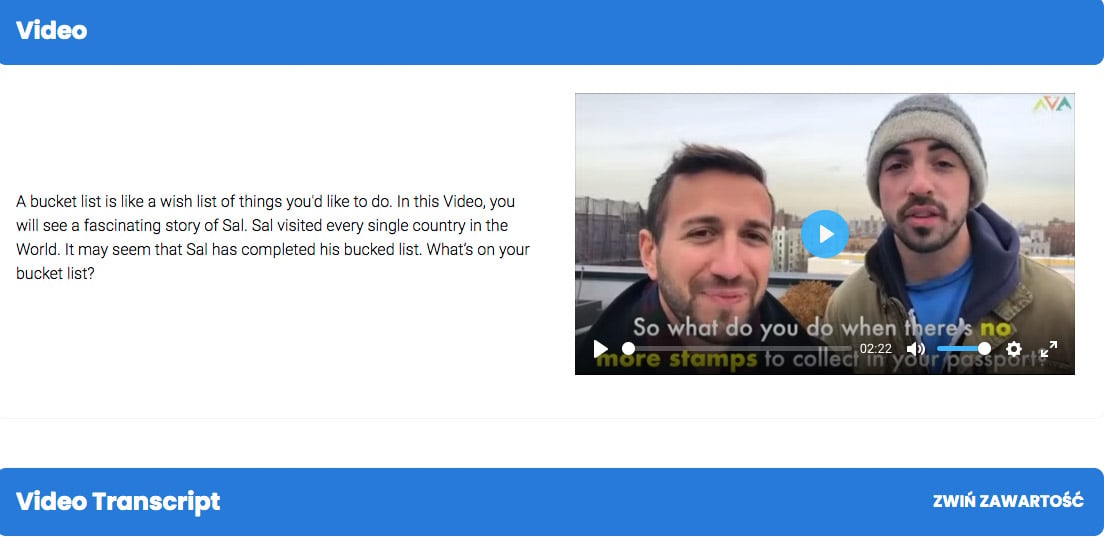 Korzystając z platformy amerilingua
Można uczyć się z lektorem lub uczyć się samodzielnie.
Można uczyć się języka ogólnego lub biznesowego.
Można nauczyć się aktualnych i naturalnych zwrotów oraz idiomów.
Można samodzielnie nadrobić braki z niższego poziomu.
Można znacznie poszerzyć słownictwo.
Można powtórzyć i utrwalić gramatykę.
Można poćwiczyć rozumienie ze słuchu żywego, aktualnego języka dzięki materiałom autentycznym (video oraz nagrania wraz z transkrypcją).
Można dowidzieć się wielu ciekawostek i zyskać interesujące tematy do dyskusji.
Można poszerzyć swoje horyzonty.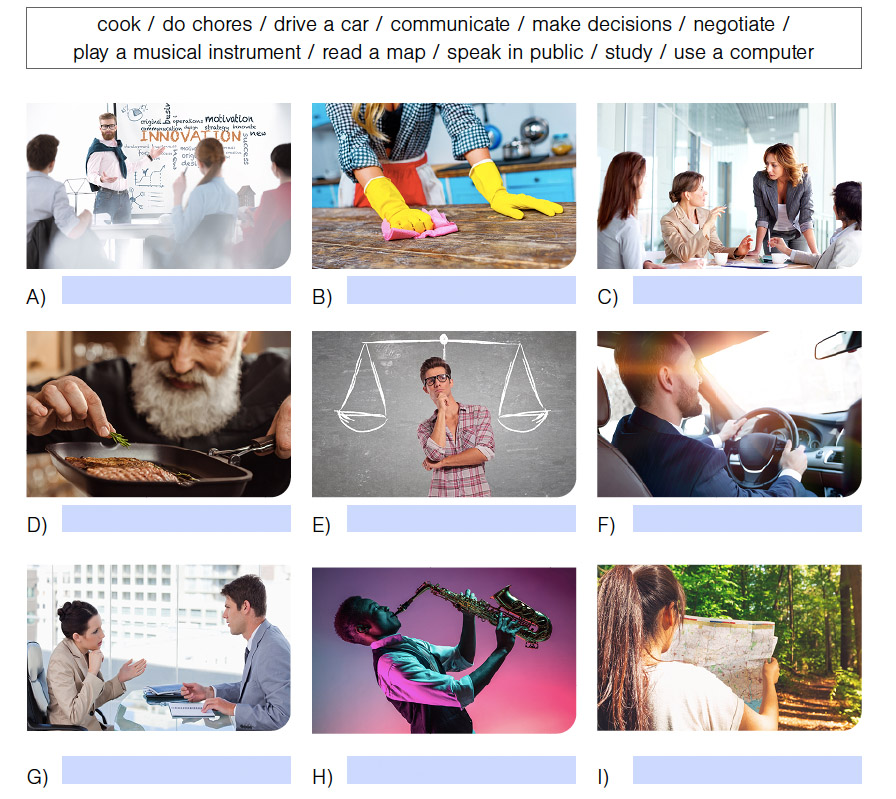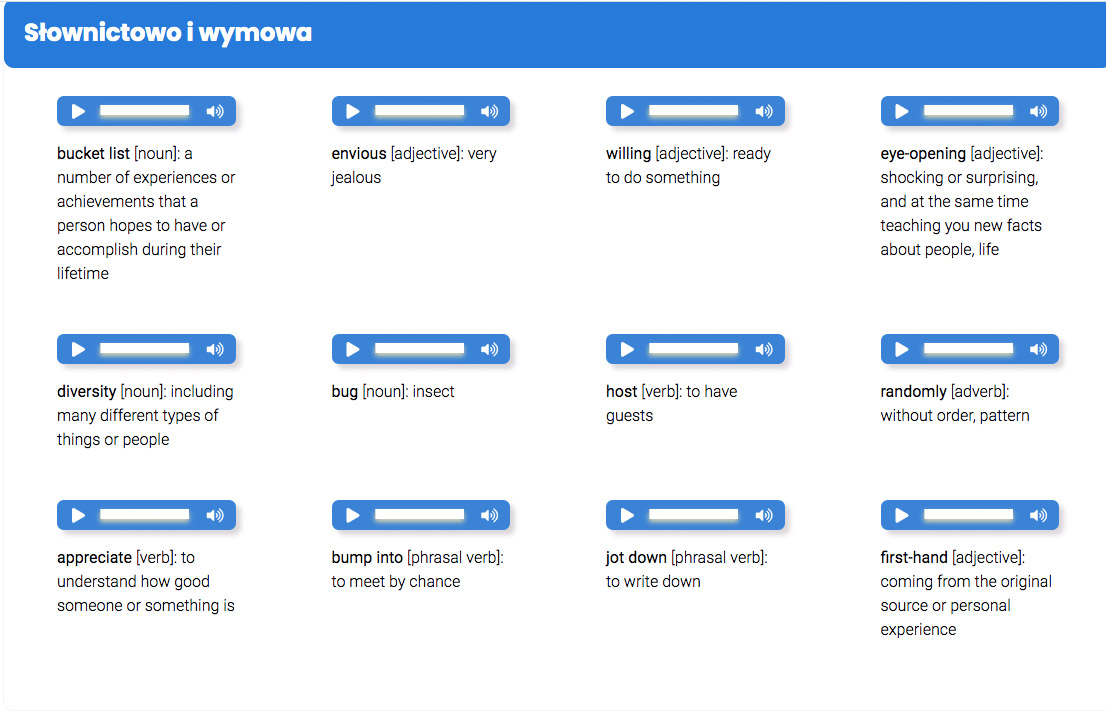 YOUR ASPIRATIONS ARE OUR PASSION
AmeriLingua believes in breaking down communication barriers by empowering teachers and helping language learners achieve the things they aspire to. Whether learners want to improve their English to get a new job, study abroad, make new friends, travel the world, or simply enhance language skills, AmeriLingua gives the tools to make these aspirations a reality.
Our ESL lessons and lesson plans are built by passionate ESL educators to be simple, fun, and effective. All of our resources and approaches are backed by research and a track record of successfully improving our students' English fluency.
Whether you're an ESL teacher, learner, or manager of an educational institution, AmeriLingua offers its innovative platform to you, so you have the tools to build confidence and skills for a lifetime.
We are driven by inclusivity, diversity, respect, and trust in all we do. Our resources serve people from all backgrounds, helping them build their English fluency, so they can more confidently engage with each other and feel included. When people feel included and listened to, they can achieve their full potential. All of our resources are built with this in mind. That's why AmeriLingua is accessible to and inclusive of all people who want to improve their English language skills, no matter their current language level.
MISSION
AmeriLingua empowers teachers and helps learners build the confidence and skills necessary to achieve their personal and professional aspirations.
VISION
AmeriLingua aims to become the number one platform for all ESL teachers and students worldwide who aspire to improve English fluency.
MAKING ENGLISH FLUENCY POSSIBLE FOR ALL
We believe that anyone who wants to learn English should be able to. We also believe that everyone deserves access to high-quality ESL lessons designed by experts in an easy-to-use platform that makes teaching and learning fun.
Discover what sets us apart and makes AmeriLingua the platform of choice for language teachers, learners, and schools around the world.
Designed by Experts
Our resources are designed by passionate ESL educators who have decades of experience inside and outside the classroom, working with ESL students to help them achieve their goals and expand their possibilities.
Saves Time
Our thoughtfully created ESL lessons save teachers, schools, and students time from searching a sea of online materials by compiling the highest-quality lessons all in one spot. Our ready-to-teach ESL lesson plans save teachers time and allow them to teach with minimal preparation.
Simply Fun
We believe that the best learning experiences are fun. Our lessons are effective and deliver tons of fun that keep teachers energized and learners engaged every step of the way.
Easy to Use
To increase access to English language learners at all levels, our lessons and tools are easy to use, offering a simple, frustration-free way to improve English skills.
Strengthens Student-Teacher Connections
AmeriLingua's easy-to-use platform makes it easy for teachers and students to communicate. Ask questions, deliver homework, give feedback, and suggest additional lessons–all in one streamlined platform.